Regular price
$0.00
Sale price
$263.74
Unit price
per
Sale
Sold out
 Try all of our products as a bundle.  
INCLUDES: Facial collection, lemon papaya kojic acid bundle, turmeric hibiscus honey bundle and turmeric kojic acid serum. 
View full details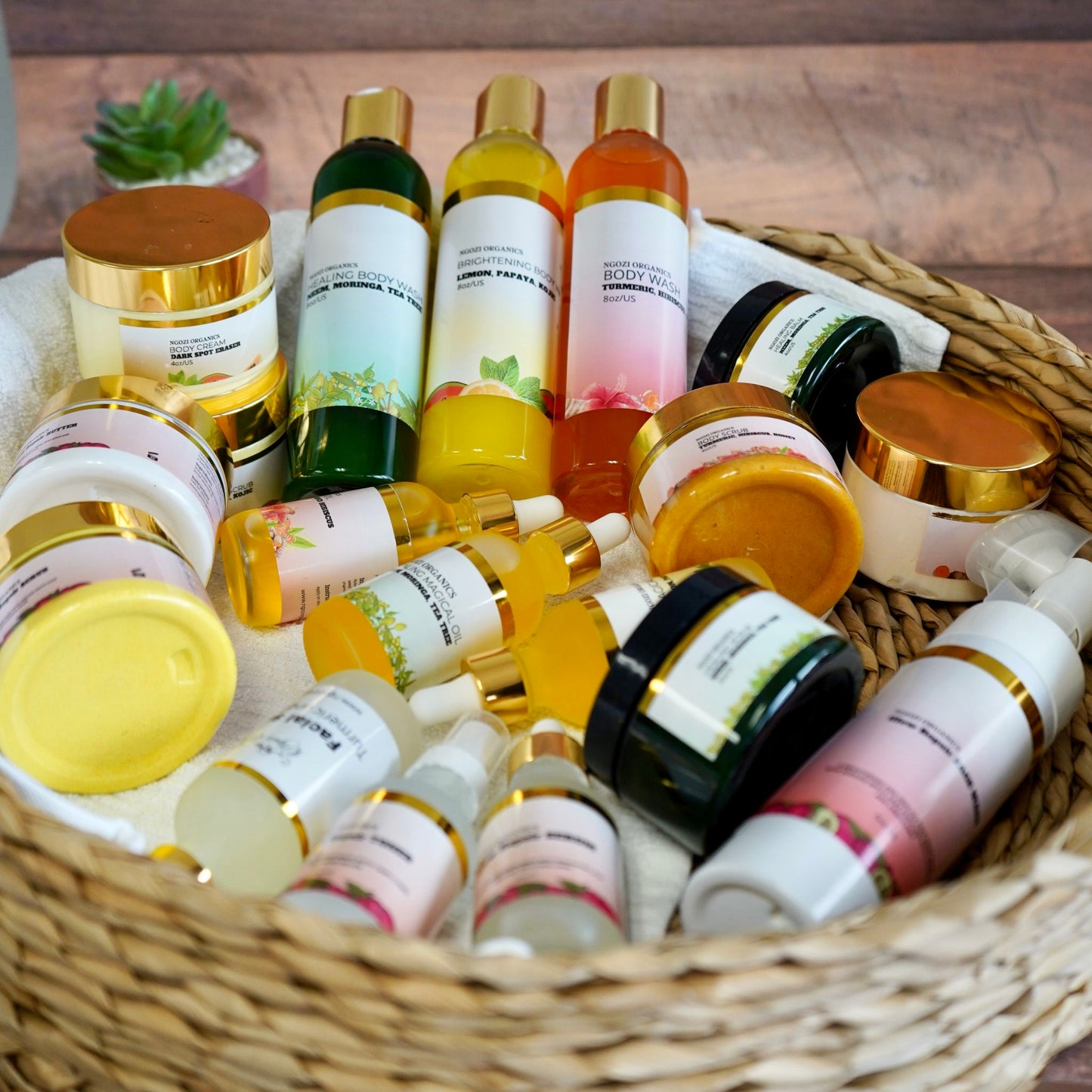 A little bit of what everything good feels like
If you are like me & heavily involve yourself in natural products this is the place for you.
Lemon & Papaya: for the days you'll need a energy burst. If I could describe it in one word REVITALIZING. *my personal favourite*
Neem, Moringa & Tea tree: was something I'd recommend for anyone who's brave enough to leave it in the general population of your house, infant approved light, soft fragrance smells like the beauty of nature. Describing word: WHOLESOME
Turmeric&Honey: for the parts of the body that needs hugs without hands. Truthfully I gave this to my mom & she loves it. Uses it with exfoliating gloves. Her describing word: IRRESISTIBLE
Great Customer Service, Amazing products!
I love what you sell! My skin is glowing! Thank you!!!
Buy now!
I won a giveaway a few weeks ago and received my products last week. I've been loving all of their products! The entire line look is very chic and the products smell and feel amazing. I'm so thankful and wait to use everything.
Sea Moss Combo and All Products Bundle
Products are amazing!! I have been using these products for a week now and I have noticed my skin is clean, clear, and dark areas are going away!! I LOVE IT!!
Awesome products
So far, I really enjoy the products specifically the foaming scrubs, dark spot eraser and body oil. Those 3 alone has given my face a nice glow. Now to the other products in the box. I have a slight coconut allergy so the lemon and Moringa body washes kind of worry me because I can smell the coconut in them so I only use them every 2 days. So far they haven't irritated my skin but I'm playing it safe just in case. The tumeric body wash was a little to strong for my face due to the peppermint but I love it on my body. The butters are also very moisturizing which I love.
Overall, I would recommend trying these products. I feel like they can be very healing without all the chemicals.