Regular price
$0.00
Sale price
$30.18
Unit price
per
Sale
Sold out
Moisturizer in 2oz
This magical cream is formulated with powerful skincare ingredients such as Vitamin E, Shea butter, Mango butter, Kakadu Oil Extract, Lemon Essential Oil, and Argan Oil. With the combination of all the ingredients the glow repair cream provides cellular protection to your skin by giving hydration to the skin . This cream is suitable for normal to dry skin.
INGREDIENTS
Shea butter, Mango butter, Kakadu Plum Extract, Vitamin E, Jojoba Oil, Aloe Vera
Gel, Lemon Essential Oil
BENEFITS
It has Shea Butter which has the following benefits to your skin

Anti-aging properties as it promotes collagen production

Long lasting moisturizing

Anti-inflammatory and healing properties to redness and swelling
It has Mango Butter which has the following benefits to your skin
Best for sensitive skin because of its non-comedogenic properties

It has salicylic acid and

antioxidants

, which are known to protect from sun damage.
It has Kakadu Plum Extract which has the following benefits to your skin
Antioxidants protecting against free radical damage caused by the sun, pollution and environmental toxins.

Above-average antiseptic properties

Has anti-Aging properties

Reduces hyperpigmentation he active nutrient ellagic acid, which inhibits melanogenesis to reduce color pigmentation allowing for a more even skin color.

Anti-inflammatory properties
It has Vitamin E which has the following benefits to your skin
It is an antioxidant that helps renew and keep skin soft

Exfoliates skin leaving the skin feeling more refined
It has Jojoba Oil which has the following benefits to your skin
It moisturizes dry skin.

It

relieves sunburns.

It has antibacterial properties hence reduces acne by controlling oil production and preventing bacteria growth.
It has Lemon Essential which has the following benefits to your skin
Naturally lightens skin tone as it is rich citric acid

Increases collagen production leaving you with firmer, smoother skin

Regulates oily skin which may be the cause of acne breakouts.
View full details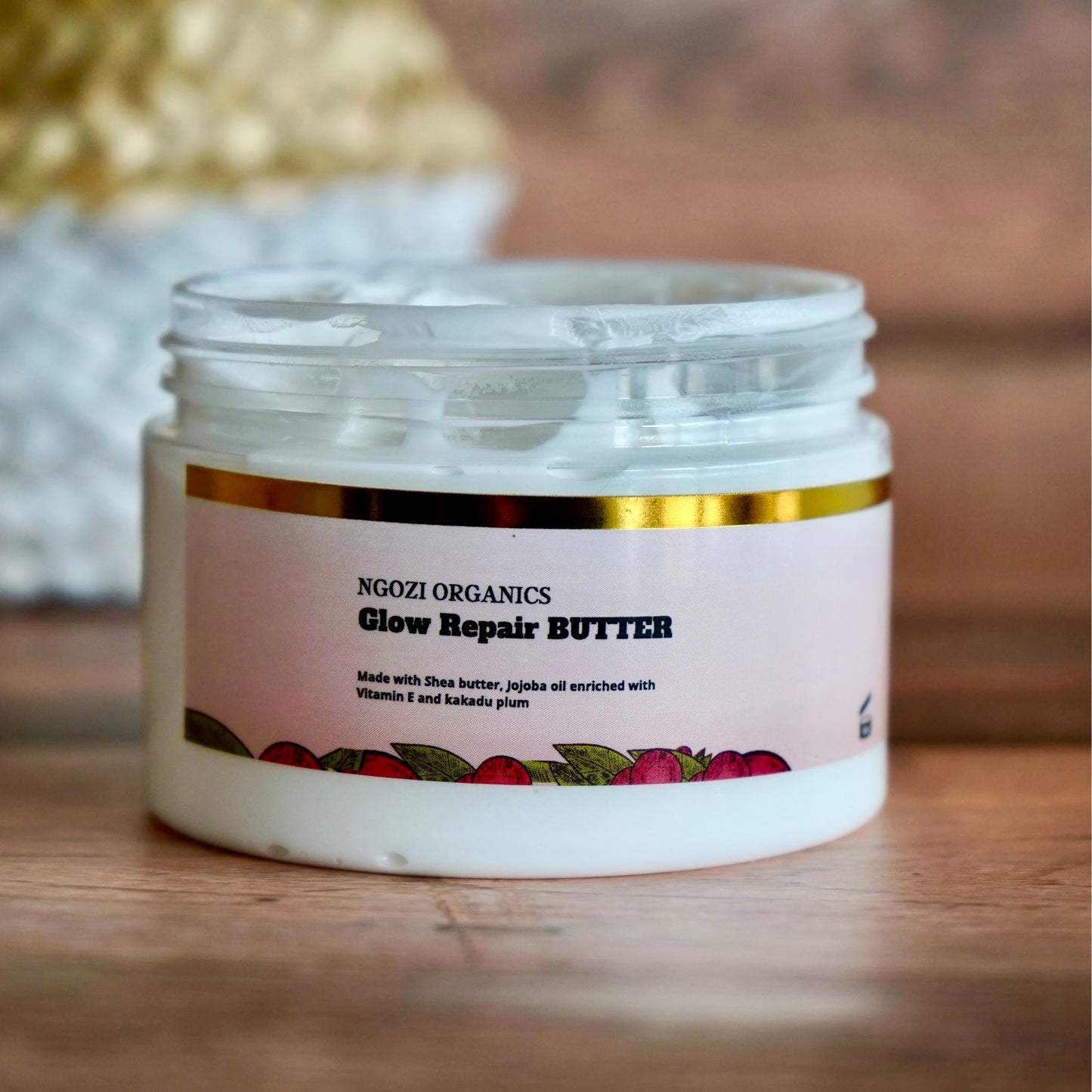 Black spots
I bought two bottles and was impressed with the way it worked with the first bottle . However, was a bit pissed off because the second bottle's top was malfunctioned and the spring couldn't let me do the puffs properly and I had to open it which just put most of it to waste. I would suggest you test them first before putting on the bottle. That was money wasted on my side
Good
Feels good on skin. Good facial mosturizer. 🙏🏻
No More Dry Skin
I know Ngozi Organics recommends The Glow Repair Facial Butter for normal to dry skin, but it has been been helpful with repairing the moisture barrier of my combination skin. I plan to reorder when needed.
Glow Repair Facial Butter
GOLD
I have been searching for a face moisturizer that doesn't clog my pores! It's really a huge hit and miss with facial moisturizers for me. I have sensitive, acne prone skin. And on top of that, was given a rosacea diagnosis about 5 months ago. I couldn't find anything to hydrate my skin, without causing more irritation or acne. Until this!!!! I cannot express how much I LOVE this face moisturizer!! Not only does it keep my skin hydrated (especially in the winter), but it is doing wonders for helping my acne/rosacea heal!!! My face looks much less red & my acne is finally fading away. I will never use another moisturizer again!!!