Regular price
$0.00
Sale price
$26.99
Unit price
per
Sale
Sold out
This amazing scrub exfoliates dead skin cells and moisturize skin, leaving you with a healthy glowing skin tone. The anti-inflammatory properties and scar lightening abilities of this turmeric sugar scrub make it  is just the thing to brighten and clarify dull dry skin!
INGREDIENTS
A blend of Shea butter, mango butter, sunflower oil, turmeric powder, hibiscus powder, raw honey, peppermint essential oil and whipped soap .
BENEFITS TO SKIN
Turmeric has anti-inflammatory properties which do seem to soothe irritated skin when applied topically. This helps you have a clearer complexion. 
It has Hibiscus powder which enhances the skin's ability to retain moisture, which is a key factor in retaining a youthful complexion. The naturally moisture rich qualities of Hibiscus helps skin stay hydrated, soft and supple for longer, keeping dry, dull skin at bay.
Honey is one of nature's most revered skin remedies. Thanks to its antibacterial and antiseptic abilities, it may benefit oily and acne-prone skin. Honey is also a natural humectant, so it helps keep the skin moist but not oily. This is because humectants draw moisture from the skin without replacing it.
DIRECTION OF USE
Rub on skin to lather for a minimum of 4 minutes. Use at least twice a week. maximum use 3 times a week.
This product and information has not been validated by FDA. Consult your physician before use.
View full details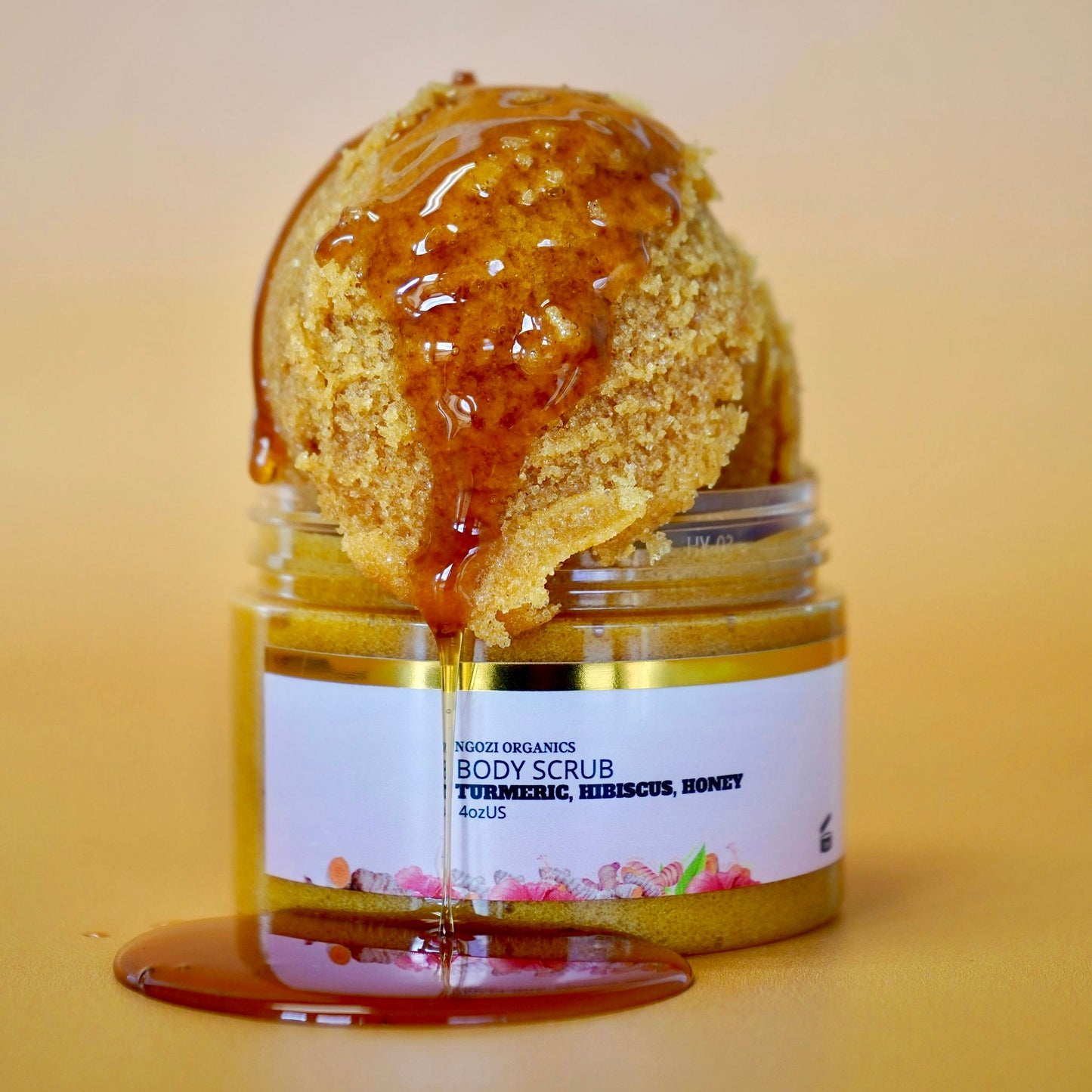 Love it!!
This body scrub is a game changer!!!! I works and lathers so good!! I'm in love with this and the body wash.
I love ❤️ it
I love the fact that it's a foaming scrub so after my shower I feel really clean & exfoliated!! I never tried any foaming scrub before till now & now I'm obsessed 🙏🏽🙏🏽❤️❤️👌thank you Ngoziorganics✊🏾
The best scrub I have ever seen and used
Simply the best!
I've bought a lot of different scrubs and this one is simply the best :)) thank you for creating a safe and amazing product!💕
Turmeric, Hibiscus, Honey Foaming Scrub